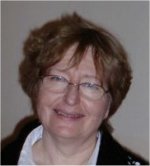 Françoise Thibaut is a classic guitar amateur, who, in order to master this instrument and to find interesting pedagogies to improve her passion, has attended many classic guitar's master classes all over the world : France, Germany, Portugal, Spain, Canada, the United States… and, of course, Belgium.
Since 1997, she has been sharing her passion for the guitar at the Music School of Treignes, giving classes a few hours a week. The year 2005 started with thrilling new experiences at the Music School of Treignes. Indeed, she has been displaying an educational program based on books of Daniel Perret, an enriching and promising course centered on sound (proposed by the School), and on a virtual educational project of Naftali Lahav on the Internet. Indeed, his method, which has been approved by the Ministry of Education of his country, is the centerpiece for an easy introduction to the guitar.

Actually, the classes are given one hour per week for children from 7 to 12, with an educational guideline by Naftaly Lahah (through the Internet).